We are committed to reducing our carbon footprint year on year and we're well on our way.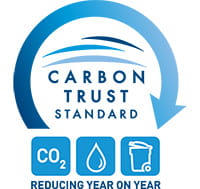 The Carbon Trust Standard is the world's leading independent body for the certification of organisations' environmental impact, recognising businesses that take a best practice approach to measuring and managing their environmental impact. By providing advice and guidance, the Standard enables its partners to enhance operational sustainability, improve their efficiency and resource management, and cut costs as a result.
Bristan Group's overall target is to reduce carbon year-on-year and to eventually become carbon neutral. We achieved a 6.9% absolute reduction in its footprint. Because this is a first certification, this reduction was calculated by comparing the average of our footprint from Year 0 (2015) to Year 1 (2016) with Year 2 (2017).
We achieved 10% above the required pass rate in our first year. Some companies don't achieve certification in their first year, making this a fantastic achievement for Bristan Group.
The tap and shower brand was scored on three primary components -environmental sustainability, energy use and associated greenhouse gas (CO2e) emissions - receiving a score of 70 per cent in the ability to demonstrate best practice in its environmental management systems. Compared to the best performing organisation in the sector, Bristan Group achieved a considerable reduction in absolute tCO2e during 2016.
We are now looking at further ways to help us to become carbon neutral in the future, such as a solar array on our building and looking into the feasibility of electric cars in our fleet.